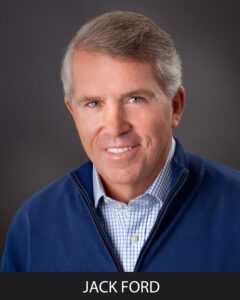 After the sudden passing of his special-needs son, TJ Nelligan authored his first book, LIVE LIKE SEAN: IMPORTANT LIFE LESSONS FROM MY SPECIAL-NEEDS SON, to preserve their memories together. Now an Amazon best-seller and winner of multiple book awards, LIVE LIKE SEAN has been released as an audiobook with Emmy and Peabody Award-winning journalist Jack Ford narrating. One hundred percent of the proceeds from the audiobook will be donated to Special Olympics New Jersey, an organization very dear to both Nelligan and Ford.
"I initially wrote LIVE LIKE SEAN to memorialize my and Sean's time together, but the book has become much more. Sean's dear friend Bobby, who is featured throughout the book, suggested releasing LIVE LIKE SEAN in audio form so that their fellow Special Olympics athletes could also enjoy the book, said TJ. "Jack Ford was my first choice to serve as narrator, and I am honored and humbled that he so readily agreed. Jack is a true champion amongst champions and respected in so many fields; however, his selflessness displayed through his work on behalf of Special Olympics New Jersey impresses me the most. It is my privilege to direct all of the proceeds from the audiobook to Special Olympics New Jersey, an organization we both have been involved with for many years and one that truly changes lives."
"We are honored to be the beneficiaries of the LIVE LIKE SEAN audiobook and know our athletes will truly be inspired by the heartwarming story," said Special Olympics New Jersey President and CEO, Heather Andersen. "It is so great to have a familiar voice in Jack Ford to help make this story even more accessible to our athletes and community. TJ has been a champion for Special Olympics New Jersey for many years and we know these funds will provide even more resources for our athletes and leave a lasting impact."
Bobby Fredericks, Special Olympics athlete and member of the Special Olympics New Jersey Athlete Leadership Council, added, "I thought having an audiobook would be good. Everyone does not have time to read, and some Special Olympics athletes and others can't read. Everyone can learn something from LIVE LIKE SEAN. It did not matter who you were; Sean was your buddy."
A longtime friend of the Nelligan family, Jack and TJ immediately bonded over their support of Special Olympics New Jersey. Jack currently serves as the host of "Metro Focus" on PBS and was recently a CBS News Correspondent for "60 Minutes Sports." In addition, Jack previously served as Chief Legal Correspondent for NBC News, the co-anchor for the "Weekend Today Show" and a substitute anchor for "Weekend Nightly News" and "Meet the Press."
"I am deeply honored to be a part of this project," said Jack. "I first met Sean when he was a young Special Olympics athlete, and as with everyone, I was immediately both charmed and inspired by him. My hope is that through TJ's words and my voice, we will be able to introduce Sean's marvelous story to an even larger audience."
LIVE LIKE SEAN, an Amazon best-seller, provides a first-person perspective of seeing the world through a special-needs person, revealing that life lessons can come from the most unlikely places. Sean's lessons have resonated with readers worldwide as the book has been recognized with the 2022 IPPY Award, Gold Medal -Inspirational/ Spiritual category; 2021 BIBA® Non-Fiction Award; 2021 Non-Fiction Book Author Association Award, Gold Winner; 16th Annual National Indie Excellence® Awards Winner – Inspiration; and 2022 IBPA Ben Franklin Award, Silver Winner – Parenting & Family.
According to one of the judges of the 16th Annual National Indie Excellence® Awards, "This book is incredibly well-written, impeccably organized, and the mechanics are nearly flawless. The chapters are short but powerful glimpses into life with Sean and what the author learned in their time together. My favorite parts of each chapter, beyond the intimate stories and moments shared, were the personal photos and thoughts from family and friends peppered throughout. Though every chapter centered its content on each central life lesson, the chapter ended with a helpful summary of how to 'Live Like Sean' with that focus. On a more personal note, the letters of love at the end had me undone. Though I usually find something to improve with each book I review, this one, from the cover design to the content, does not lack for one thing. Every parent would benefit from the wisdom within."
While promoting LIVE LIKE SEAN, TJ appeared on the Living & Loving podcast, hosted by Country Music Artist Monique McCall. Monique was so taken by Sean's story. After the interview, Monique inquired if anyone had put Sean's lessons to music. From there, a song and a budding romance developed. Sean's song, "2nd Chance," debuts on theLIVE LIKE SEAN audiobook. TJ's family always felt that Sean was an angel on earth, but even TJ was taken aback by how Sean continued to influence his life even after his passing. TJ and Monique were married in an intimate ceremony in Vail on 2/2/22.
"Sometimes the universe connects you to someone for a reason," added Monique. "Sean's story moved me so much – the lessons in this book about gratitude, wearing your heart on your sleeve, sharing a smile – it needed to be put into music."
TJ concluded, "The greatest impact someone can have on another person is the legacy they leave behind. That was Sean's gift."
Download a copy of LIVE LIKE SEAN, featuring "2nd Chance" by Monique McCall, everywhere books are sold and help support Special Olympics New Jersey. Additional information on LIVE LIKE SEAN can be found at TJNelligan.com. Additional information on Monique McCall can be found at MoniqueMcCall.com. For additional information or to donate, please visit Special Olympics New Jersey at sonj.org.