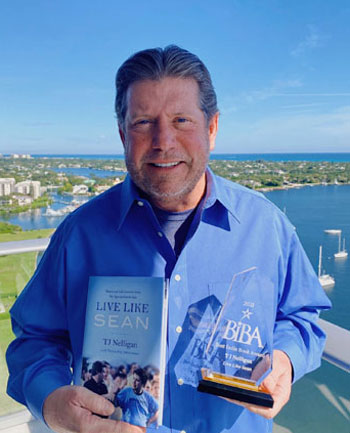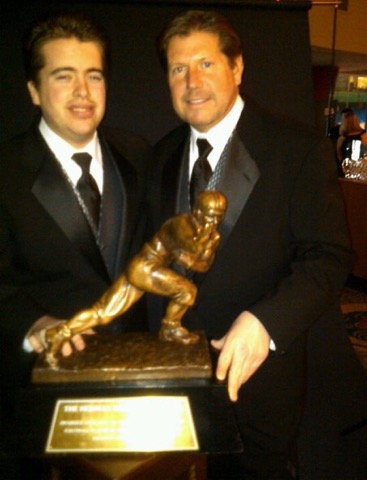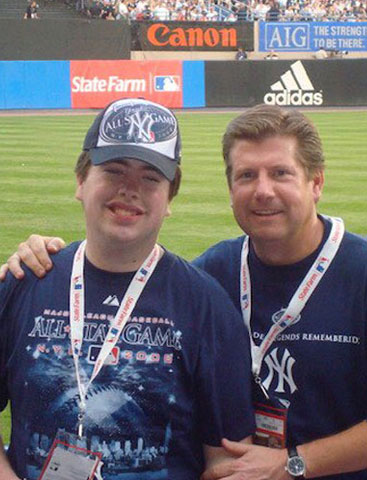 TJ Nelligan
Entrepreneur • Advocate
Best-Selling & Award-Winning Author
TJ Nelligan is a man on a mission. Like most successful entrepreneurs; action, risk-taking, and greatness are part of the winning strategy. But unlike most, TJ's heart is the catalyst for a lifelong dedication to service for those who live a life with "special gifts."
Inspired by the sudden and tragic passing of his son Sean on Father's Day 2019, TJ authored his first book entitled, Live Like Sean: Important Life Lessons from My Special-Needs Son, as a way to celebrate the amazing person he was and to share all of Sean's inspiring stories. An Amazon bestseller, Live Like Sean provides a first-person perspective of seeing the world through a special-needs person, revealing to us all that life lessons can come from the most unlikely places. Sean's lessons have resonated with readers worldwide as Live Like Sean has been recognized with the 2023 Independent Press Award-Parenting & Family, NYC Big Book Award 2022- Inspiration; 2022 IPPY Award, Gold Medal-Inspirational/Spiritual category; 2021 BIBA® Non-Fiction Award; 2021 Non-Fiction Book Author Association Award, Gold Winner; 16th Annual National Indie Excellence® Awards Winner-Inspiration (2021); and 2022 IBPA Ben Franklin Award, Silver Winner-Parenting & Family.
TJ's professional life as the founder of a premier sports marketing agency and his love for his son created a synergistic opportunity for him to become a great advocate for Special Olympics. Having spearheaded some of the most successful marketing campaigns in collegiate sports, TJ looked to elevate the Special Olympics' status domestically and led the efforts to bring the 2014 Special Olympics USA Games to New Jersey. He then served as chairman and CEO of the 2014 USA Games, where he oversaw all aspects of the event. TJ has been involved with Special Olympics New Jersey (SONJ) since 1995, serving on its Board of Directors from 1995 to 2011 and as Chairman of the Board from 2001 to 2003. As chairman, he raised millions of dollars for the Special Olympics New Jersey Sports Complex. In 2022, TJ was elected to the Special Olympics New Jersey Hall of Fame in recognition of his more than 20 years of involvement with SONJ and advancing the Special Olympics movement in sports and training, fundraising, and public awareness.
TJ founded his namesake company, Nelligan Sports Marketing, Inc. (NSM), in June 1999 in pursuit of becoming the foremost sports marketing company in the nation. As a result of his leadership, NSM's employees negotiated more than $500 million in sponsorship agreements with some of the country's best-known blue-chip companies. In 2014, with the dream fulfilled, TJ sold the company to Learfield Sports. 
Even as he built his company, TJ never forgot what was important. He consistently balanced his life as a social entrepreneur with his responsibilities as a father and role model, always incorporating the values of sportsmanship with the duty to others. An advocate for the needs of those with both intellectual and developmental disabilities, TJ served as Commissioner of the Commission of Higher Education for the State of New Jersey from 2005 to 2008. He was honored with the Man of the Year Award by SONJ in 2007. In 2006, Montville Township named TJ its Citizen of the Year. TJ was inducted into the Montville Township High School Hall of Fame two years prior. In recognition of the Special Olympics USA Games, TJ, and Special Olympics athletes rang the closing bell of the Nasdaq on May 30, 2014.TJ has spread the message of inclusion and acceptance along with his marketing expertise in his numerous media appearances, including on FOX & Friends, Fox Sports 1's Super Bowl XLVIII Pre-Game Show, Bloomberg News, Sports Business Journal, New Jersey Monthly Magazine, New York Daily News, Newark Star-Ledger/NJ.com, Mitch Albom Radio Show, and The Huffington Post.